We are excited to announce we will be at Australia's Premium Retail Event - the Reed Gift Fair Melbourne from 5-9th August 2023. 
Please visit our stand at QQ18
We look forward to sharing range and showing you all of our new products
Proudly sponsored by
---

Ngarga Warendj are very proud and excited to announce we have been shortlisted for three awards in the Inaugural Kinaway-The Victorian Aboriginal Chamber of Commerce Business Awards 2021. The awards we are shortlisted in are"Kinaway Regional Business Award" "Kinaway Best Collaboration Award" "Kinaway Resilence Award" If you would like to watch the winners announcements and entertainment the awards are being announced on Friday 29th OctoberRSVP to the awards night here!https://lnkd.in/gz4ENs3Z You can read more about the awards here https://kinaway.com.au/kinaway-business-awards/   #business #collaboration #smallbusiness#aboriginalart #kinawaybusinessawards #taungurung#entrepreneurship #regionalbusiness   
---
• aboriginal art • aboriginal culture • ochre • possum skin cloak
NAIRM MARR DJAMBANA GUGRA ( POSSUM SKIN CLOAK ) COMMISSION
---
Thank to Aboriginal Business Victoria and Little Rocket for working with us to share our story of Ngarga Warendj Dancing Wombat in our new advertisement. Check it out on our home page      
---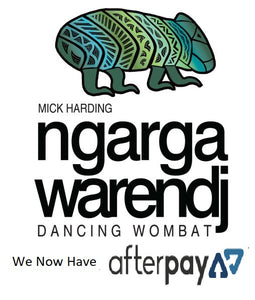 Great News - Ngarga Warendj now has Afterpay  Heres how it works !