About Our Aboriginal Designs
As a member of the Taungurung people in Victoria, Australia, Mick Harding draws upon his Aboriginal heritage in his artwork. From woodworking and sculpture to printmaking and giftwares, his designs showcase indigenous art in a contemporary style.
His company, Ngarga Warendj Dancing Wombat, offers Aboriginal gifts and products that are not only handmade, but also produced through ethical licensing agreements. In this way, Mick continues to honour traditional Aboriginal culture while also pushing the boundaries of indigenous art for sale.
Whether it's a carved wooden boomerang or a screen-printed t-shirt featuring Aboriginal art designs, Mick's work is the perfect example of modern Aboriginal crafts and storytelling.
ABOUT US
Unique Aboriginal Designs and Indigenous Artwork Prints
Ngarga Warendj offers a unique selection of indigenous artwork prints on a range of gift products, all featuring unique artwork inspired by traditional Aboriginal designs. From t-shirts to coffee mugs, each item is carefully designed and printed to preserve the vibrant colours and patterns of the original indigenous artwork.
These items make for amazing gifts or souvenirs, providing both a visual and cultural connection to indigenous Australian history and culture. Our online store also makes it easy for customers to have their choice of indigenous artwork shipped anywhere in Australia.
If you're looking for the perfect Australian indigenous-inspired gift or keepsake, we have just the thing for you.
NGARGA WARENDJ X ALPERSTEIN DESIGNS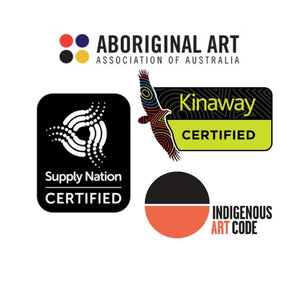 NGARGA WARENDJ IS PROUD TO BE A MEMBER OF THESE ORGANISATIONS 
Ngarga Warendj acknowledges the Traditional Custodians of Country - their connections to land, sea and community. We pay our respects to all Traditional Owners of the past, communities of today and those leaders of the future
Huge Selection of Indigenous Artwork Prints
If you're looking for indigenous gifts, look no further. We have something for everyone with a wide range of thoughtful gift options available – from lapel pins and wooden boards to ceramics and art prints. And if you can't decide on just one item, why not opt for one of our gift boxes or hampers?
Not only will you be supporting indigenous artists, but you'll also be able to give a unique and meaningful gift. With our selection of Aboriginal artifacts, we offer a glimpse into the rich cultural heritage of Australia's indigenous peoples. So next time you're searching for indigenous gifts, consider supporting Ngarga Warendj.
Carrying on the Tradition
Not only is Ngarga Warendj is a proud Australian family-run business, but we also prioritise cultural knowledge and education.
Our dedication to independence and improving the lives of our community sets us apart as a responsible and meaningful option for purchasing indigenous gifts. Plus, all items are beautifully crafted, each carrying an important cultural narrative.
Shopping with us means you won't just be supporting one artist, but supporting a whole community. So why not choose us for your next indigenous gift purchase? You'll be making a positive impact and getting a stunning, unique item in return. For more information, contact us today.