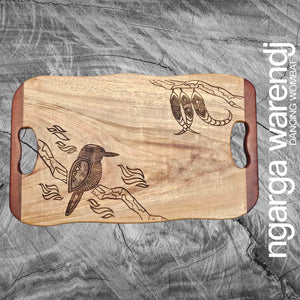 Ngarga Warendj
CAMPHOR LAUREL & REDGUM THIN MEDIUM BOARD WITH HANDLES - KOOKABURRA DESIGN
Regular price
$135.00
$0.00
Tax included.
Thin Medium Rectangle Board with Handles - Kookaburra Design
Made from Camphor Laurel with Redgum Handles
Garrng Garrng is the Taungwurrung name for the Kookaburra. It is a bird that is known for its distinctive laugh and is a  skilled hunter with its large beak. You can often hear Garrng Garrng early in the morning, laughing in the distance.
Each board has its own distinct natural pattern and is embellished with a Design by Ngarga Warendj - Dancing Wombat - based on the Traditional symbols of South Eastern Aboriginal Art.  Your board comes with a card that gives the story of the artist and design. 
Measurements approximately 47 cm x 28 cm x 2.5cm
Please Note: This cutting board is handcrafted, the above dimensions and weight are approximate measurements only.
Use for a serving board for antipasto or cheese and biscuits or turn over and use the back for a cutting board and leave the side with the artwork lovely for your kitchen display.


Camphor Laurel has natural antibacterial properties.  It has a pleasant aroma and each board has a unique colourful wood grain.
As an introduced species, it is logged in native Australian forests to keep the environment healthy.
---
Share this Product
---
More from this collection