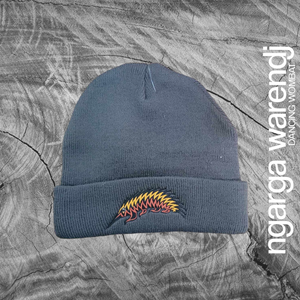 Ngarga Warendj
NGARGA WARENDJ BEANIE - SLATE GREY EMBRODIERED WITH GAWARRN THE ECHIDNA DESIGN
Regular price
$20.00
$0.00
Tax included.
Ngarga Warendj Slate Grey Beanie with Embroidered Gawarrn the Echidna Design 
Gawarrn the Echidna is a very prickly fella. He is covered
in hard spikes and that is how he protects himself.
He is active after the cold time and reminds us that Gaan
the Snake is now active as well.
---
Share this Product
---
More from this collection